Compositions &amp Interactive Systems
These are a few selections of projects and compositions I have done over the past few years.
Don't KNow (2018)
Don't Know is an interactive piece that explores performing with an obstinate generative music system. It attempts to engage with urgency, disruption of control, and authorship within the confines of an automated system. The system reacts to the performer's ability to keep up with button presses while directing the performer to do separate actions on a modular synthesizer. The piece starts at a very slow tempo with tonal melodies, harmonies and rhythms generated by the system. If the performer does not press the lit buttons in time, the tempo increases, and the piece becomes more atonal until a limit of 980 beats per minute is reached. The piece is also accompanied by a visualization of successes and failures as well as a generated set of lyrics that are created when a melody plays. The performer can choose to prevent an accelerando by being accurate or to let the system fail. Once a failure rate of 80% is detected, the system automatically increases the tempo. If the performer reaches a 20% rate of success, the tempo will remain the same. If the performer reaches a success rate of 80% the tempo will decrease. The performer can also improvise around with any of the sudden changes in tempo and add to the indeterminacy. The generative system is built in MaxMSP 8 and uses Ableton Live to play the instruments. The interface to the performer is a Monome 64 that lights up a random LED to be triggered (kind of like whack-a-mole). Any wrong press or delayed press counts as a failure. The note, harmony, and rhythm generation is done by an algorithm that uses Markov chain analysis and probabilities to model a dataset of original compositions. The generated data is sent from the patch to the clips in Ableton Live, using Max For Live and the clips are randomly played in time. The instruments are a selection of samples that change as the piece progresses. The melodies for these instruments are also sent to the modular synthesizer, where the performer tweaks its parameters. This piece was premiered as a part of Not Sent Letters and Guests at Dynamo Arts Assosciation in Vancouver on November 17th, 2018.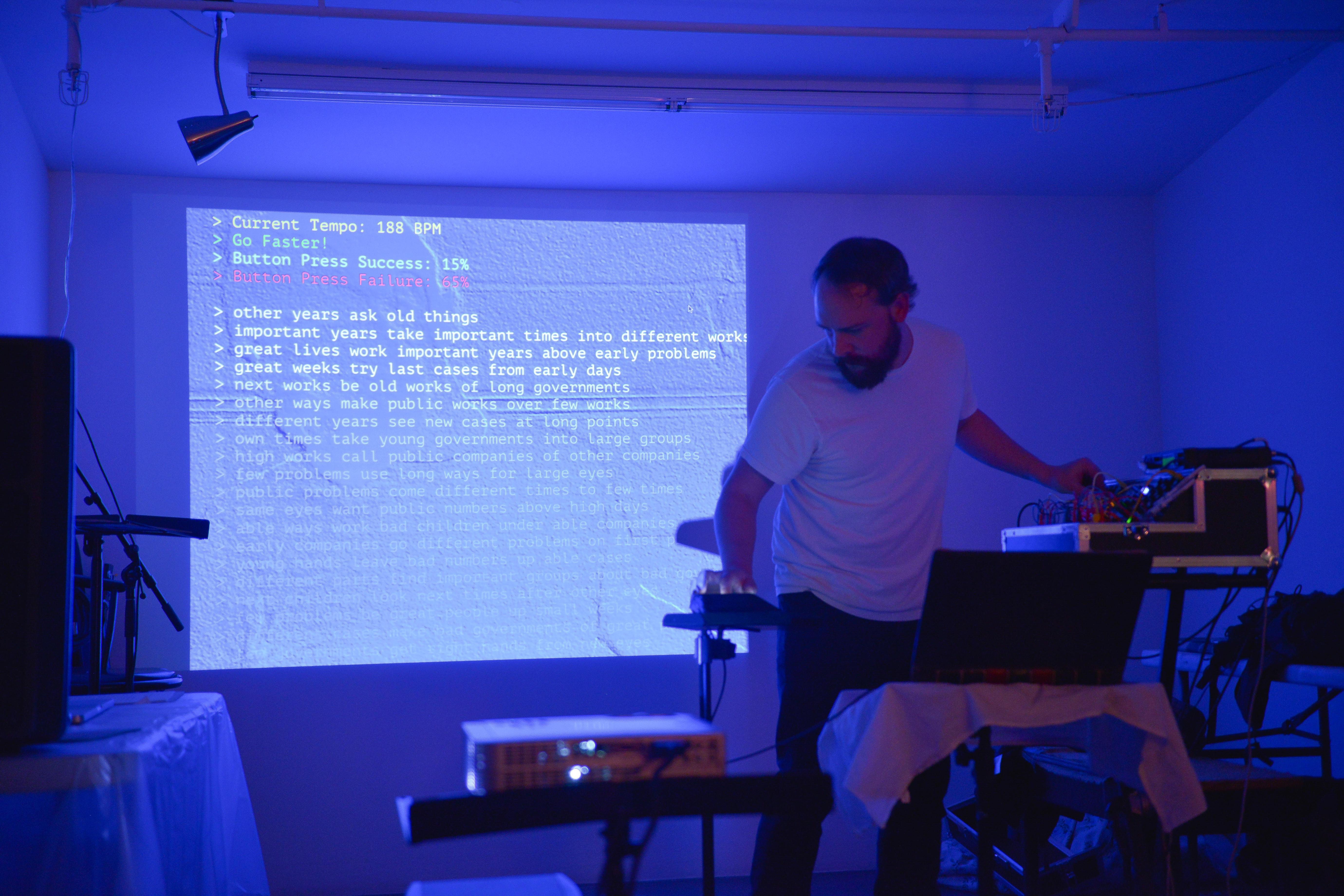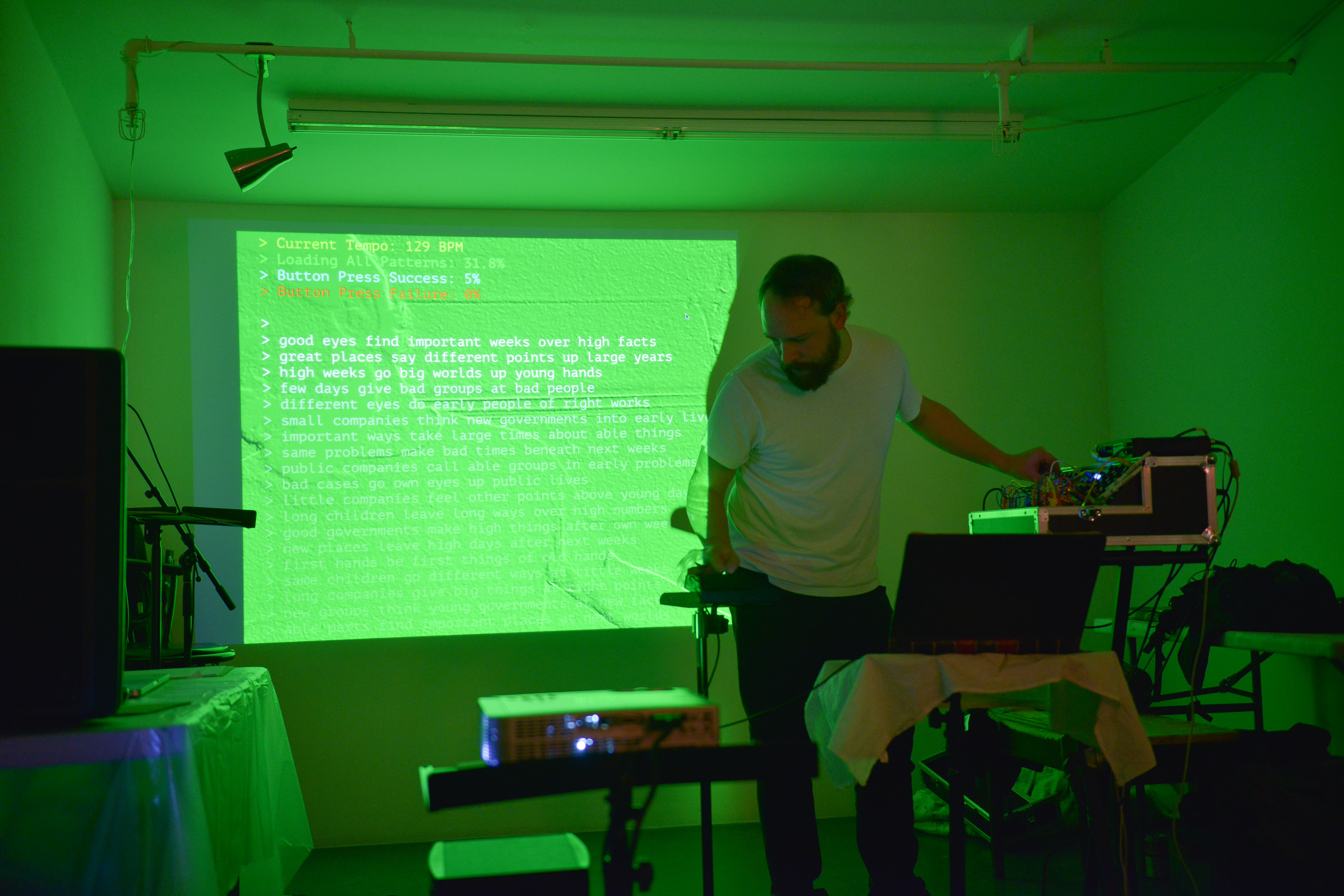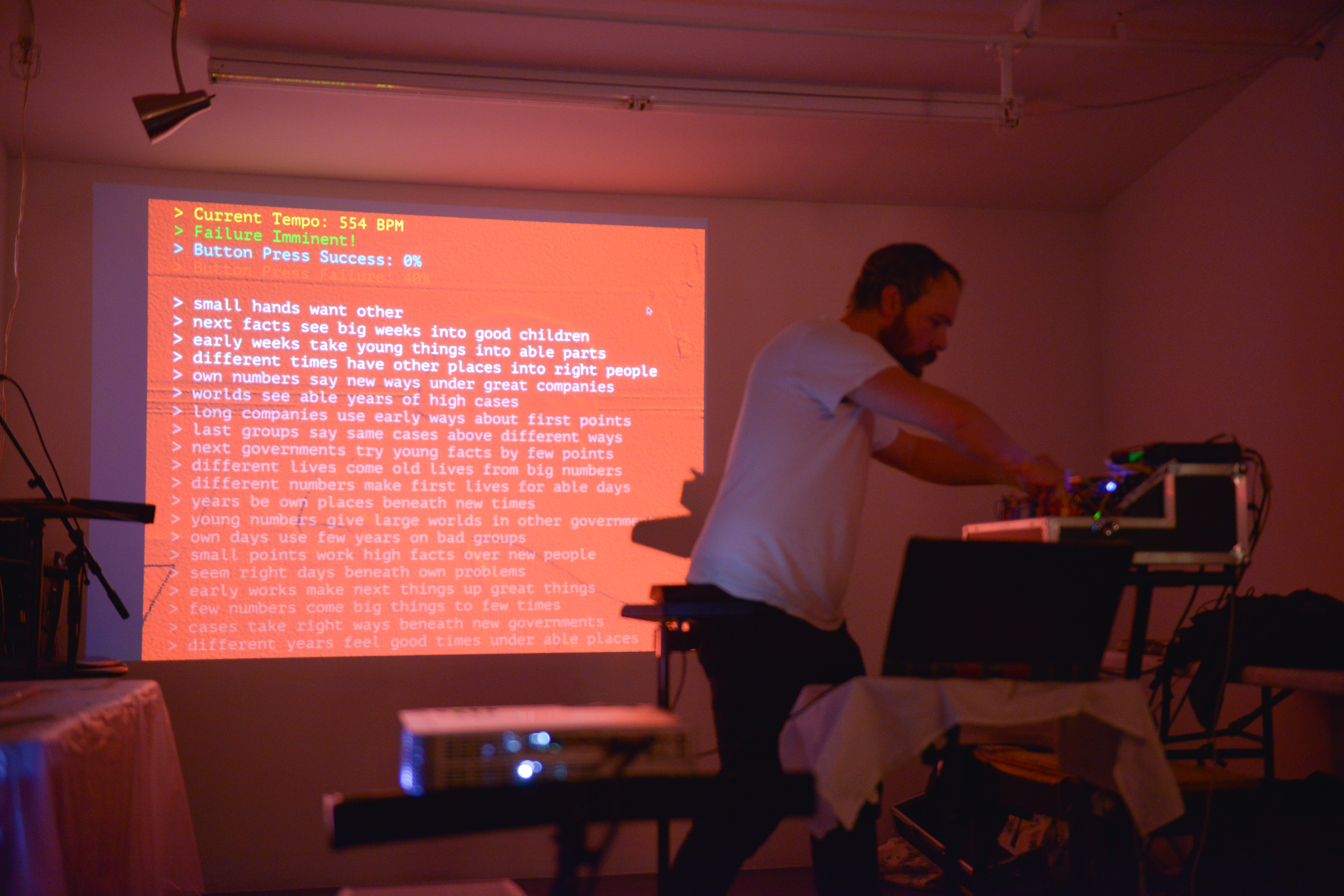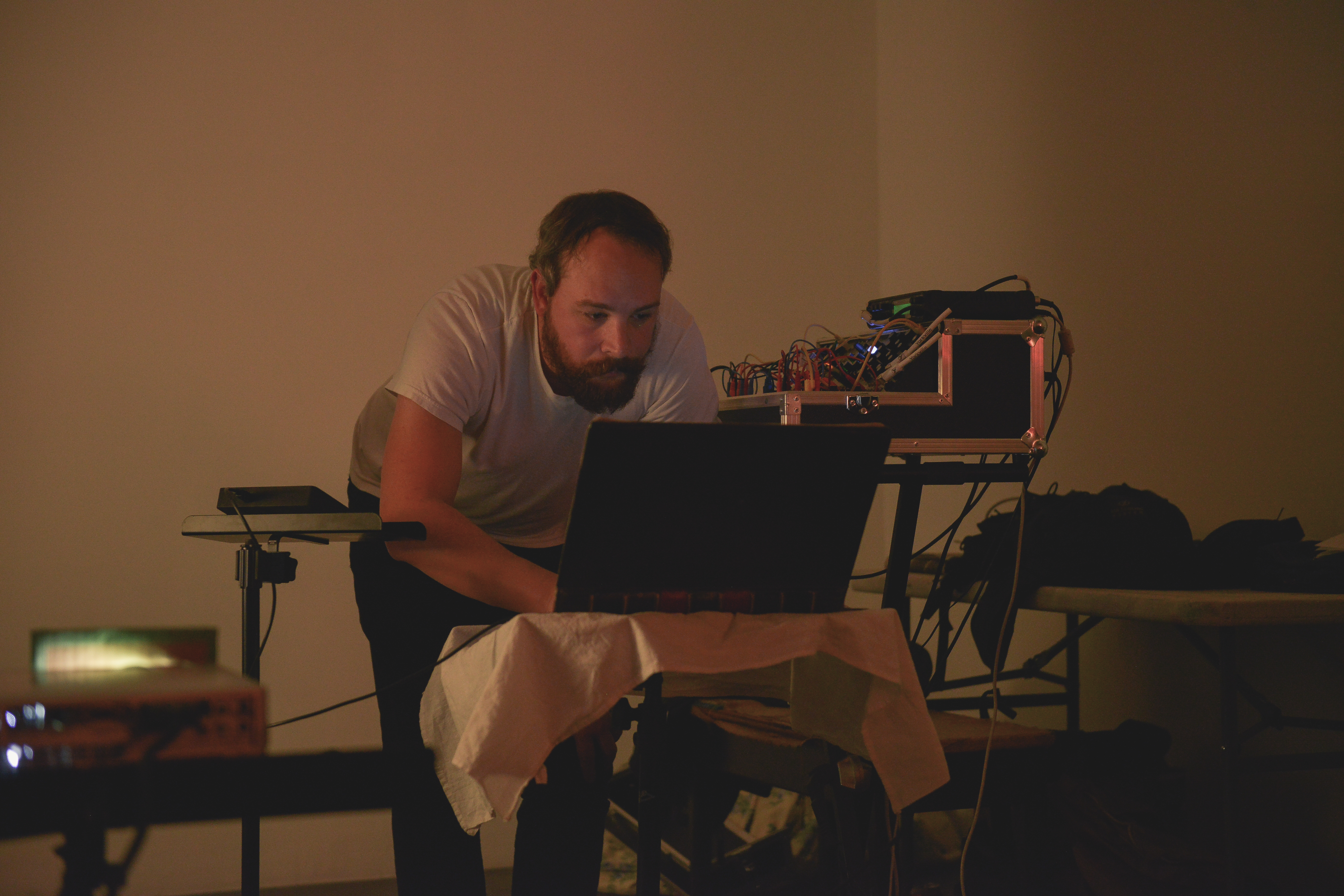 Photos Credit: Alisha Weng
Videography Credit: Maxene Skinner
OnNextCount (2015)
This solo trombone and electronics piece was performed live on August 17th, 2015 at AV Disruption in the Fei and Milton Wong Experimental Theatre Vancouver as part of ISEA2015. OnNextCount uses a generative music system that directly relates to the compositional gestures of Trombone improvisation. The piece is an exploration of looking for alternative ways to engage in electronic music performance and representation. The improvisatorial and generative elements used within this performance are in dialogue with human and machine autonomy, disruptive aesthetics and the ephemeral. OnNextCount is performed using Ableton Live software and uses an embedded MaxforLive system to generate new musical material and signal-processed gestures. Please note that the audio quality in the video isn't the best. There is a better audio-only live take that was done prior to the performance below in the SoundCloud player.
This work is an interactive electroacoustic music composition and solo mixed-media performance realized as an alternatively-staged one-night concert event. The project examined the tradition of staging live electronic music and the role of a solo computer music composer-performer. It is a four-movement interactive work with an appended generative music system performed solo within an alternative stage layout. It is derived from an interdisciplinary practice of combining electroacoustic music and electronic dance music performance practices. This thesis project also included custom built performance software and an interactive audio visual performance apparatus. It was my MFA thesis project and was performed on Sept. 15th 2012 in Studio D at SFU Woodward's.
Transom (2012) &amp Transom 2 (2014)
Transom is an earlier interactive live computer music piece of mine for trombone and electronics. It was performed on May 5th 2012 at the Djavad Mowafaghian World Art Centre, SFU Woodwards. It explores chordal and choral voicing generation and uses a custom MaxForLive patch with pitch detection software. The live harmonic loops are altered at selected times within the software-based score using a generative algorithmic system within the patch. Transom 2 is a continuation of this exploration of live trombone and electronics. The recording below was done live before performing it at the 2014 Toronto International Electroacoustic Symposium August 14th 2014.
Some other compositions of mine